Welcome To St Vincents Furniture Store, Sheffield
Here to help the vulnerable and those coming out of homelessness in Sheffield
"Let us do whatever good lies in our hands"
Fredric Ozanam
Over the next few months we will be launching our new referral process.
The system will 'go live' on Monday 29th April with 16 agencies having the authority to use it.  We are looking to have all our agencies using the online process to refer Clients within 12 months.  The new process will speed up our referral procedure and also ensure that confidentiality is maintained at all times.
We will gladly visit any agency that requires training on the system. 
Look out for news on the food chain which will be taking place on Wednesday 20th March 2012.  A sight not to be missed, 1400 pupils from All Saint's Catholic High School will be passing tins, packets, boxes and all sorts of food between the school and the Furniture Store, by hand, can't wait.
Unfortunately due to the adverse weather conditions the food chain was cancelled once again.  We are now planning to reschedule it for the summer term, when I am sure the sun will shine.  Keep an eye out for the new date.  Third time lucky!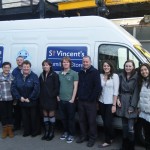 Sheffield University and St Vincent's Furniture Store have relaunched the 'Bring it don't bin it' campaign for 2013.  Any items that students no longer want or need can be dropped in the special bins which are located around the University Residences.