Welcome To St Vincents Furniture Store, Sheffield
Here to help the vulnerable and those coming out of homelessness in Sheffield
"Let us do whatever good lies in our hands"
Fredric Ozanam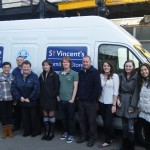 Sheffield University and St Vincent's Furniture Store have relaunched the 'Bring it don't bin it' campaign for 2013.  Any items that students no longer want or need can be dropped in the special bins which are located around the University Residences.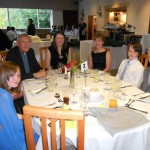 On Friday 25th May 2012 the Furniture Store celebrated 25 years of helping the vulnerable and those coming out of homelessness in Sheffield.  A celebration was held at Baldwins Omega in Sheffield, there was a 4 course meal plus entertainment from The Dale Country Band.
Our special guests of honour were Bishop John Rawsthorne (Bishop of Hallam), Sister Paula (first Project Co-ordinator of the Store) and 3 pupils, along with their teacher Laura Mason, from All Saints Catholic High School in Sheffield.  The pupils, Anne, Rueben and Zach are all part of the BBC Young Reporters Project.
Back in 1987 Anne White (a member of the SVP Conference at Holy Family Church in Sheffield), decided to volunteer her services at the new Furniture Store, little did she know that 25 years later she would still be with us, giving her time and services so freely.
Anne has seen a lot of changes over the past 25 years, she has carried out many different roles in her 25 years, which has included making up packs for delivery, sorting through the many items that are either delivered to or brought into the Store and assisting in the Office.